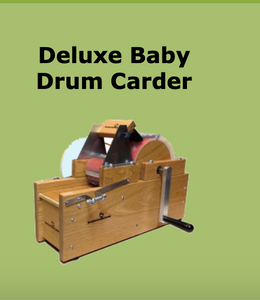 Ask me about layaway for items in my shop if this would work for you.
 Please read the description. Brother does not ship free anymore - I will get a quote from them since buyers' locations are all different and a quote will be specific to you. I will then add the shipping to your order and send an invoice for the difference. 

Our Deluxe Baby Brother Drum Carder produces an extra thick 5x22" batt and is excellent for creating roving and fun art batts.
Features:
Tall Oak finished Frame which allows you to use the Carder in the middle of a table as the handle will clear the table freely.
Has extra long 5/8" long teeth which are made of a hardened and highly tempered steel wire that is remarkable for its longevity and uniformity. This cloth is roving fillet and has been specifically designed for "art batts". The longer teeth, in 72 TPI, and with the special tooth pattern is best suited and specifically designed to allow the user to experience maximum versatility. The special fabrication and design of the cloth makes it ideal for handling a wide range of materials; normal fleeces, and not so normal fun additives; feathers, bits of cloth, etc.
Has our easy drum adjustment design.
Poly drive Belt for quiet operation.
Packer Brush Attachment, large and small Flicker/Cleaning Brushes, Awl for removing batts included.
Convenient slide out tray under carder for clean out.
The frame is made of finished solid oak.
The Deluxe Baby Carder is 20" long, 7" wide and 14" tall and weighs under 14lbs.
5:1 ratio between drums.
Comes completely assembled and ready to card.
Hand made in USA.
Includes instructions.
Limited lifetime warranty as with all our carders.
We usually ship within 1-3 business days but if we are busy it could take over a week to ship out.